I know this one person and from time to time she felt like a plastic bag drifting through the wind, wanting to start again. Sometimes she felt buried very deep; like she was six feet underground and screaming, but no one seemed to hear a thing. But then she ignited her light and let it shine. And she owned the night on the Fourth of July.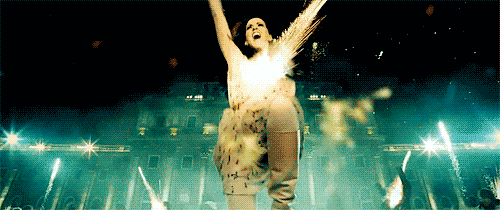 This weekend we celebrate a pop star that courageously sang about fireworks and loving one's self in 2010. We are also celebrating the 239th birthday of the nation, but don't forget about the business with that Katy Perry song from five years ago. Happy Independence Day everyone. USA! USA! USA!
—
4th of July Fireworks
The 4th of July fireworks will begin at dusk on Saturday in the football stadium of OPRF High School, near East Avenue and Lake Street. The fireworks display is presented by the local non-profit, Great American Light Show Association.
Independence Day Parade
The annual Independence Day Parade will begin at 10 a.m. on Saturday. The parade will start at Longfellow Park, located at Ridgeland and Adams, and head north on Augusta, turning east to disperse near Whittier Elementary School. Among the entries typically scheduled to march are social and special interest groups, community groups, athletic teams, politicians, businesses and service organizations, children's groups, animal lovers with their pets and musical groups, according to the village.
Free Summer Concert Series at Scoville Park – Sunday
Dave Rudolf is a Grammy-nominated musician who blends comedy into his performances. "Anything that happens onstage or offstage during a Rudolf concert becomes fair game for his disarming wit," according to a review from the Chicago Tribune. The show will take place Sunday from 5:30-7:30 p.m. at Scoville Park, 800 W. Lake Street.
Festival Theatre's "To Kill a Mockingbird"
Festival Theatre will perform "To Kill a Mockingbird" on Friday at 8 p.m. in Austin Gardens Park, located at 167 Forest Ave., Oak Park. Now in its 41st season, Oak Park Festival Theatre is the Midwest's oldest professional outdoor classical theatre. Tickets for adults are $27, $22 for seniors (65+) and $15 for students. They can be purchased here.
Around Oak Park wishes you a safe and happy Independence Day weekend. Thanks for reading!